Roof Replacement – Things to Consider
Pre-existing Problems:
Are there pre-existing issues that need to be addressed when the roof is replaced? You will find that simply covering up existing problems will cost more in the long run than addressing them up front.
Your Attic:
Most people are unaware of the mess that can be made in the attic when a roof is being replaced. If you have important belongings in the attic, they should be covered or taken out.
Ventilation:
Is the roof system properly ventilated? Ventilation is one of the most crucial elements to the long term health of your new roof. Ventilation is also required for portions of the shingle warranty.
Roofing is NOT a Quiet Job:
Your home will be a temporary job site. If you have a pet that may be scared by the noise, you may want to consider having the pet stay with a friend for the day.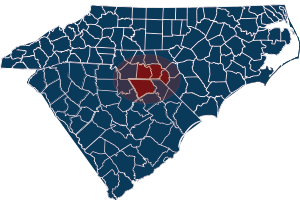 Richmond, NC
Scotland, NC
Anson, NC
Chesterfield, SC
& Greater Surrounding Areas