Refer a New Client and Receive $100!
How to Earn Your $100!
1. Fill out the online form below with the contact information of the person you're referring.
2. Call Guardian Roofing at 910-997-4047 and let us know the name and phone number of your referral.
3. Have your referral contact Guardian Roofing and provide us with your name.
Terms and Conditions
To be eligible for a referral reward you must have made a prior purchase with Guardian Roofing.
A referral reward is earned after the referred prospect makes their first purchase.
Only one referral is earned per new customer referred.
You may refer multiple customers; there is no limit to the number of referral rewards you can earn.
There are no minimum purchase requirements to earn a previous customer referral.
A $100 Guardian Roofing gift card will be awarded to any non-previous customer for their referral.
Guardian Roofing referral checks cannot be replaced if lost, stolen, destroyed, or expired.
Recipients are responsible for all applicable taxes.
Void where prohibited by law.
All interpretations of program terms and conditions will be taken at the sole discretion of Guardian Roofing.
Guardian Roofing reserves the right to change the rules, conditions, benefits, or rewards pertaining to the Referral Program, or terminate the program, in whole or in part, at any time and at its sole discretion, with or without notice.
"I thoroughly am satisfied and well pleased with the work done to my home, and will be calling you for further work. Thanks"
Johncye - Rockingham NC
"Just can't find words enough to express my thanks to you and your crew. for doing such an awesome job in putting the roofing on my home, may the joy of the lord always abide in your life. Be blessed."
Myrtle - Hamlet NC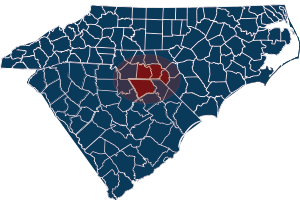 Richmond, NC
Scotland, NC
Anson, NC
Chesterfield, SC
& Greater Surrounding Areas