Roof Installation in the Rockingham, NC, Area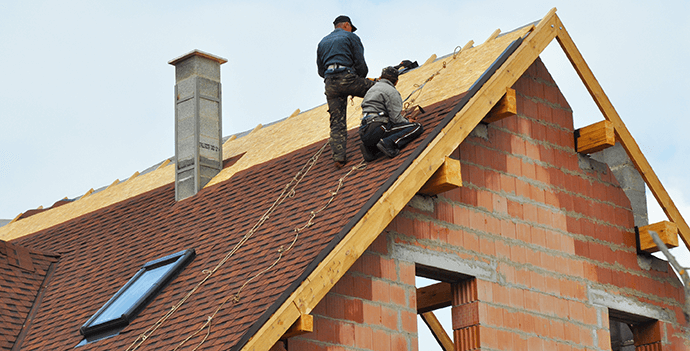 If renovating your roof is on your to-do list, you have landed in the right place. We provide top-quality roofing services and can help you right from emergency services to installing your new roof. At Guardian Roofing, you will find resourceful information that will help you turn your experience into a positive one. This is your turn to convert the look of your home with high-performing roofing products.

For over 13 years, Hayden Construction Inc. has been delivering excellent solutions, renovating roofs, and improving lives through top quality products and world-class services. We have taken these essential ethics and applied them to our roofing system products. Now Guardian Roofing LLC continues as a subsidiary.
RESIDENTIAL ROOFING SERVICES COMPANY
Residential roofing takes a lot of abuse from storms, wind, and extended exposure to heat and sunlight. These elements eventually wear down even the best of roofing materials, leaving the inside of your home vulnerable to a host of potential structural and safety issues. Leaking roofs can lead to dangerous mold and rot critical wooden framework, while also damaging finished areas inside walls. Regular roof inspections ensure minor problems are addressed before they grow into major issues, and there are a host of affordable roofing options now available when replacement is eventually needed.

WE ARE THE PREMIER ROOFING COMPANY IN THE ROCKINGHAM NC AREA
Guardian Roofing has a walk-in office for you to come and visit us and plan your roofing project. We are also the only company in the South NC Rockingham area that is a licensed general contractor.
Need a roof replacement? We will properly inspect your home roof and provide you with an in-depth evaluation and scope of work with an estimate. We address the entire problem, not just the leak or visible damage. We are also restoration professionals. When it comes time for the inevitable roof replacement, Guardian Roofing will work with you to find the best solution for your home and budget with any roofing options and materials. We have all of the traditional roofing materials and styles available, plus a whole range of steel metal roofing options that are shaped to look exactly like traditional styles, such as shingle and shake patterns. These types of roofs last up to five times longer than classic shingling.
Get your free inspection and estimate by calling 910-997-4047 today. We're the best residential roofing company for all your roofing needs in Rockingham, NC, and surrounding areas.
RESIDENTIAL ROOFING
Guardian Roofing LLC is a brand name for residential roofing. Our professional roofing experience has served our clients in the residential markets successfully. By merging our capability with renown resources, we generate a grand solution that works for our clients. We take great pride in assisting our clients as they watch their dreams turn into reality. We endeavor to create a business relationship based on trust and commitment. Learn more about asphalt shingle roofs.
METAL ROOFING
You should think about increasing the resale value of a house while considering upgrading your home's roof. Attractive and permanent metal roofing is regarded as one of the top renovation-friendly building materials for those considering a roof refurbishment and also for new home builders. The acceptance of metal roofing has grown over the past decade, clearly portraying that proprietors are aware of the superiority of this product.
If you need a permanent roof replacement, want to lower your energy and maintenance costs, or are merely looking to enhance the curb appeal of your home, residential metal roofing options can be the perfect solution. With benefits ranging from low maintenance to energy efficiency, metal is the foremost roofing material in the industry. We offer exposed fastener, hidden fastener, and standing seam metal panels for your home.

There are dozens of different "looks" and "feels" achievable with metal roofing— from the traditional standing seam look to the old-world tile look or the beauty of shakes, to the more agricultural, corrugated look. The variety of attractive metal roofing profiles is one of the significant advantages of the industry. No matter what the style or look of your home, there is almost certainly a metal roof system out there that will complement it perfectly!
HAIL DAMAGE OR TREE DAMAGE ON YOUR ROOF?
Storm damage can be hugely devastating and costly to your home and roof. Luckily, your homeowner's insurance typically covers both hail, tree, and storm damage. Guardian Roofing works with insurance companies all the time and will be able to work with your insurance carrier. Many times when you have storm damage, you can have a tree fall on your home, and you need tree removal. Not all roofers have the experience, equipment, or desire to offer tree removal services. In this instance, as a homeowner, you need to call two different companies to manage the tree removal and roof placement for your home. But when you call Guardian Roofing, we can manage your residential roofing project from start to finish, including tree removal.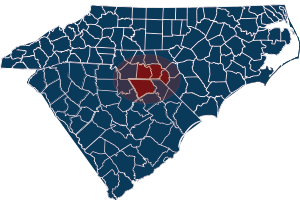 Richmond, NC
Scotland, NC
Anson, NC
Chesterfield, SC
& Greater Surrounding Areas