TREE REMOVAL IN THE SANDHILLS, NC, AREA
During a major storm, a tree can fall on your home and cause significant damage. This will result in you potentially needing multiple types of services to repair your home – major roof repairs, siding, structure repairs, landscaping, and other general contracting needs. However, before you can begin any of those services, you have to remove the tree. Guardian Roofing is not only a roofing contractor, but we also are a tree removal company.

Contact Us Today!
Tree Removal Services: (910) 997-4047
Questions to Ask a Tree Removal Service Company
WHAT QUALIFICATIONS DO YOU HAVE?
A reputable tree removal company will have the right previous experience, which you should be able to gather with referrals from previous customers. The tree removal company should be able to demonstrate they have the necessary cranes, trucks, etc. to remove the tree from your home safely. Additionally, the tree removal company should have adequate insurance. Tree removal is dangerous, and like most hazardous services, being insured for that work is not cheap. Any reputable tree removal company will have the correct insurance. If you speak to a tree removal company and the price might seem too low, it could be because they are skimping on one of these areas. Especially when it comes to insurance, you don't want to risk liability if an emergency happens because the tree removal company wasn't adequately insured.
SHOULD I REMOVE A TREE THAT HAS NOT FALLEN?
There are many reasons to remove a tree. For example, a tree that has fallen from a storm requires removal. In other cases, you want to remove a tree to prevent future damage to your property or home. The tree could be dead or have deteriorated over the years, the roots could be exposed, increasing the likelihood of it falling over, or maybe the tree is too close to the home and blocks necessary sunlight. Removing a tree to simply enhance a view may not be recommended, but preventing future damage is one good reason to be proactive and remove a tree from your property.
Tree Removal Services: (910) 997-4047
CAN I USE THE CUT-DOWN TREE AS FIREWOOD?
In many cases, you can use the cut-down tree as firewood; however, it depends on the type of tree and its condition. Make sure you ask your professional tree removal company.
HOW MUCH DOES IT COST TO REMOVE A TREE?
Removing a tree can vary in cost depending on its height, how large it is, disposal methods, the location of the tree, and more. It's challenging to put general pricing on tree removal, but TreeRemoval.com has some average costs of tree removal for you to consider before calling a local tree removal service company for a more accurate quote.
Up to 25 Feet Tall – Between $150 and $500
25 Feet Tall to 75 Feet Tall – Between $200 and $1,000
75 Feet Tall or Higher – At least $1,500
TREE REMOVAL SERVICE
If you need tree removal service today, call Guardian. We will provide the highest customer care and the highest quality of work. We even have a showroom you can visit and talk to one of our professionals at 2150 Fayetteville Road, Rockingham, NC 28379. Call us at (910) 997-4047 today for your free tree removal service inspection and custom estimate. We will evaluate your home, roof, and the tree to determine the best and safest process to take for the tree removal. After tree removal, Guardian Roofing can also assist in the replacement of your roof as well.
Contact Us Today!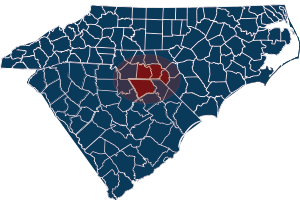 Richmond, NC
Scotland, NC
Anson, NC
Chesterfield, SC
& Greater Surrounding Areas